Size & shape of the playing field
Map data in urban game design workshop
DESIGN & THE CITY conference 22 April 2016 Amsterdam

This workshop explores how well map data describes the street-level experience of the city through an actual game design challenge.
Takeaway
By playing and redesigning an urban game participants gain a deeper understanding of local availability and density of urban data and how this data translates into urban experience. This will engender critical reflection about availability, accessibility and relevance of located urban data.
Workshop description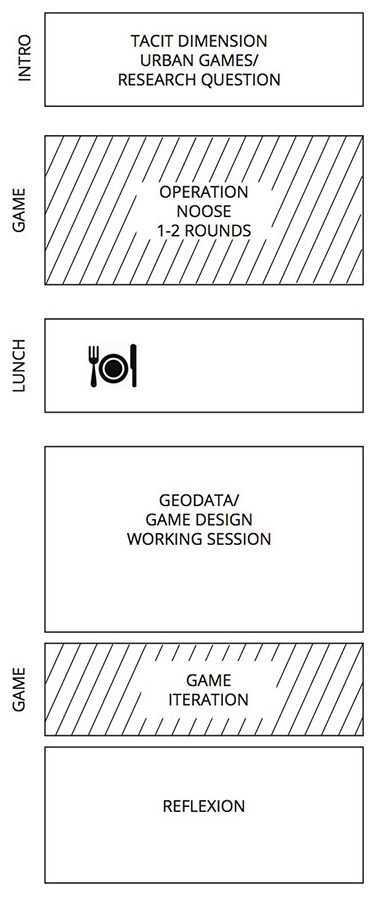 How is open and public map data relevant for our lives in the city? Infrastructure providers and municipalities are keen to cooperate with facilitators of the open data movement to provide more meaningful data, yet it is hard to grasp what citizens really need.
The workshop Size & Shape of the Playing Field provides an example of the 'pull' for urban data from the niche field of urban game design. We will identify expressive data that helps us to tune the mobile based urban game Operation Noose. The main focus will be on unique features of a given urban site like length of corners, curvature of streets, density of urban objects modifying visibility.
After a short introduction we will play the game around the Knowledge Mile. Then we will discuss and collect potential data sources that enable the generation of the perfect playing field and reflect about how workshop learning can be transferred.
Info
Date: 22 April 2016. The workshop will last for one day. Concrete schedule tba. Venue: Workshop space @ Knowledge Mile Amsterdam and streets of the neighbourhood. Concrete meeting point tba. Price: Participants have to purchase a ticket for 25 Euro, which will go towards coffee, lunch and other organizational costs. Contact: sizeandshape@tacitdimension.com
Feel free to browse the TACIT DIMENSION website for urban games and related research and the DESIGN & THE CITY website for full program and other workshops. Or contact us at sizeandshape [at] tacitdimension.com
Registration
Registration deadline extended until 1st of April 2016!
Prospective participants can apply for this workshop until the 1st of March via sizeandshape@tacitdimension.com. Please include your name, a one paragraph bio, and a one sentence motivation for your participation. GIS and cartography skills are very welcome! You will be notified soon after the deadline if you have been accepted.